IMPROVING SKILL SETS, IMPROVING OUTCOMES

Marshall Professional Development specialises in running development courses, delivering training programmes, providing quality coaching and improving governance, both educational and corporate.
The most important element in any successful organisation is its people. Investing in professional development and building a cohesive team brings untold benefits. CPD is a process, not a one-off activity. We often prioritise CPD for operational staff but rarely consider it for the strategic board.
Our work involves joining up the operational with the strategic and improving the skill sets of each layer to create something bigger than the sum of the parts. By offering a varied menu of training, support and courses, we provide everything an organisation and its people need to succeed.
To view our full list of courses please click here. Alternatively, to discuss your requirements further please contact us directly.
E-qual Platform
Our brand new E-qual Learning platform is now live.
Access a wide range of online courses to up-skill and provide personal development and career opportunities. All of our courses are self-paced meaning you can learn anywhere and at anytime.
Browse all of our courses here.
Coming soon:
Governor Development Programme in Maintained Schools.
Marshall Professional Development is the Official Training Partner of The Multi Academy Trust Association.
J & G Marshall Ltd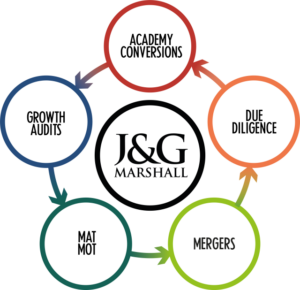 If your school is considering academisation or you are an existing Trust looking for additional support, please visit our sister company – J&G Marshall Ltd – which specialises in academy conversion support, MAT Growth Audits, MAT MOT's, Due Diligence and Trust Mergers. With nearly 300 conversions under our belt, J&G Marshall is well placed to support your conversion journey from start to finish.